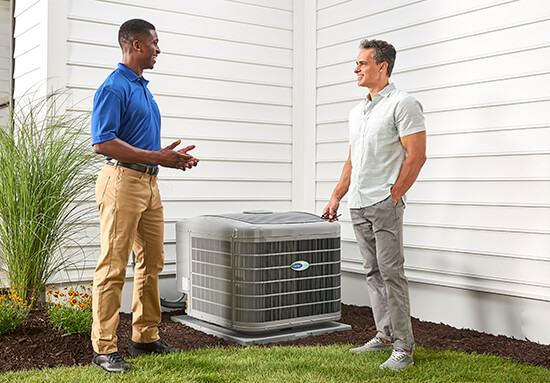 Effective Ways to Improve Air Conditioner Efficiency
Air conditioners account for a significant percentage of total annual home energy usage, which often increases during summer. That explains why you probably search for ways of improving your AC's efficiency and lowering utility costs. Fortunately, there are several ways to avoid your ac blowing hot air and improve air conditioning efficiency to make it less costly to keep your home comfortable throughout the hot summer months. Read through to discover ways to make your AC more efficient, ensure that your family is comfortable, and help extend the system's lifespan.
Signs Your AC Might Not Be Efficient
If you are unsure about your AC's efficiency, look out for these signs of inefficiency:
Increased utility costs
Frequent cycling
Unusual and loud sounds
Ice on the compressor
Reduce Heat Gain
Reducing heat gain during the summer months is an effective way of making your air conditioner work efficiently. You can reduce an AC's heat gain by sealing air leaks in your house, especially if it's older. Air sealing reduces hot air entering the house, significantly enhancing AC efficiency, If your house gets direct sunlight, it can affect the cooling loads and you'll notice that your air conditioner isn't cooling house. Thus, shading your windows from the outside can help keep the sun out and increase the efficiency of your air conditioner. Adding insulation is another effective way of reducing heat gain and improving AC efficiency.
Clear Around the Outdoor Units
The outdoor units of your AC require free air circulation for efficient operation. If the outdoor units are blocked with leaves, dust, or debris, the system must work harder to provide comfortable home temperatures. Cut shrubs and remove leaves around the outdoor unit to clear the area for a more efficient air conditioner.
Unblock and Vacuum Your Vents
Take stock of the vents on the floor or ceiling and unblock them. If the vents look dirty, you may need to vacuum them to eliminate the pet hair or dust. You may also need a complete professional air duct cleaning to help maintain steady airflow through the air conditioning system. Remove debris and dust from the indoor air supply vents to clear the vents. You can also improve your AC efficiency by removing obstructions like furniture, blinds, and toys around the vents.
Sizing Your AC
If you plan to install an air conditioner, ensure that you hire an expert to survey your home and consider other requirements for proper AC sizing. Under sizing the AC forces it to work harder and use more energy, making it inefficient and shortening its lifespan. Similarly, oversizing an AC causes greater energy use and inefficient operation. Therefore, your home needs the right AC size to deliver maximum performance and improve its efficiency.
Invest in Energy-Efficient Model
Another trick for improving an air conditioner's efficiency is checking whether the unit is energy-efficient. If your AC model isn't energy-efficient, you may want to invest in a newer model and hire an ac installation expert. Suppose you have an old air conditioning unit. In that case, you may want to invest in a newer, more energy-efficient model to help maintain comfortable temperatures and keep cooling costs low. Invest in an ENERGY STAR-rated AC with a high SEER (Seasonal Energy Efficiency Ratio) rating.
Be Vigilant About Maintenance
Hiring an air conditioning repair and heating repair technician to conduct regular HVAC maintenance aids in keeping your system efficient and optimizing energy efficiency. Besides detecting repairs and fixing them early enough, routine maintenance can help extend the system's lifespan. AC problems can easily affect the unit's efficiency. Hire an air conditioning repair service to maintain your AC before the summer season to ensure every component runs properly and improve the system's overall performance.
Changing or cleaning your air filters every three months is an excellent way of improving efficiency, too, and will help keep your AC in good condition overall. You may need to change air filters monthly if you have pets, live in a dusty area, or have just completed a home renovation project.
Install a Smart Thermostat
You can lower energy costs by not running your air conditioner when you don't need it. A simple and effective way of doing this is installing a smart thermostat. It allows you to adjust temperatures automatically and remotely if you connect it to your Wi-Fi. A smart thermostat can lower or raise home temperatures after detecting the absence or presence of people, which can significantly improve AC's efficiency.
Find a team of HVAC professionals who is always ready to assist you in implementing these tips if you are ready to improve AC efficiency. You can also save money and extend your AC lifespan by hiring professionals who specialize in heat pumps, furnaces, and humidifiers.