Learn More  https://www.neifund.org/swanton-energy-services-llc/
Central Air Conditioning
Keep the Heat From Ruffling Your Feathers
You can't stop the summer heat from arriving. However, with a central air conditioner from Swanton, you can prevent those hot, high temperatures from landing in your home.
Will Your Comfort Sink or Swim?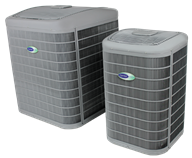 If you find the summer heat is making itself at home in your space, try not to get too hot under the collar. Our central air conditioners have the power to make the sweltering temperatures fly the coop. Plus, with up to 20-plus SEER, they're highly efficient, too.
Essentially, upgrading to our central air conditioning will send your chilled relief soaring, while leaving pesky, high energy bills on the ground. It hatches some other cool benefits, too, such as:
Improves the quality of your sleep
Protects your home's furniture & your electronics from heat damage
Leads to better indoor air quality
Frees your indoor environment from airborne intruders
… And so much more!
0% Financing Available, Book Your System Upgrade Today!
Up to $2300 in Rebates* Gas Conversions
*Select systems. Call for details
$300 Instant Rebate AND Free 1-Year Service Plan
When you upgrade to a high-efficiency heating or AC system
The Trek to Chilled Relief
Are you ready to spread your wings and soar toward the chilled relief you deserve?
Well, before you embark on your journey to a cooler home, keep this in mind: Timing is everything. When it's time to migrate to a new cooling system, your current unit will begin chirping. So, keep an eye (or ear) out for these clear signs your system needs a replacement:
Your unit is over 10 years old.
It consistently fails to keep your nest cool.
It requires frequent system repairs.
While operating, your unit generates loud noises or foul odors.
There are inconsistent temperatures throughout your home.
When it's time for takeoff, our professionals will use their broad wingspan of AC expertise to guide you toward the perfect unit for your home. This is a cooling system that's powerful enough to keep your entire home cool without overworking or short cycling. It's also the right size to fit the bill for your home's layout. Once the right cooling system is on your radar, our team will swoop in to install it flawlessly.
With the right cooling system and our professionals as your wingmen, it's a guarantee that you'll find yourself perched on a higher branch of comfort.
Let's Flock Together to a Cooler Home
Beat the heat with the team you can count on to "tweet" you right—and that's Swanton. So, nestle up to a cooler home by filling out our online form or calling us at 732-708-7926 today!
---
Our Central Air Conditioners
Carrier Infinity® Series Air Conditioners
Carrier's Infinity® Series air conditioners have an air of superiority to them—and rightfully so. With an enviable SEER rating of up to 21, models in this series are built to deliver total home comfort in the quietest, most efficient manner. Plus, when combined with the innovative Infinity® control, no other air conditioner can reach the caliber of comfort management these units deliver.
Carrier Performance™ Series Air Conditioners
No matter how much space you have, Carrier's Performance™ Series air conditioners will keep your home cool in a reliable and energy-efficient manner. But, on top of its impressive SEER rating, this series offers a compact unit for tighter installations, too. With one of these units, space restrictions aren't a problem.
Carrier Comfort™ Series Air Conditioners
Dependable chilled relief is one reason to consider a Comfort™ Series air conditioner, but it's not the only reason. With impressive SEER efficiency ratings ranging up to 16, these units are the most economical way to attain a reliable and efficient cooling system. Simply put, it's cooler to cut your utility bills with a Comfort™ Series air conditioner.