Do you need AC maintenance in Atlantic Highlands, NJ? Whether you have an older HVAC system or a newly installed AC, you will occasionally need AC services to keep your system running smoothly. With regular maintenance, your system will run better and last longer. However, it's important to find the right company to perform this service if you want an HVAC tech with the right mix of experience, courtesy and knowledge. Swanton Energy Services hand selects each team member and then we provide on-the-job training prior to sending technicians out on their own!

Your search is over! When you need an AC tune-up, one of our cooling technicians will check all components of the unit, lubricate moving parts and repair or replace malfunctioning components. Performing AC maintenance each year can save you a ton of money on your energy bill and future repair costs.
Best AC Maintenance in Atlantic Highlands
Scheduling annual AC tune-ups only takes a few minutes and it can benefit you in so many ways. Without frequent lubrication, parts can suffer damage through regular wear and tear. By cleaning out the system, we remove debris that can damage sensitive internal parts and block airflow. Swanton Energy Services offers comprehensive AC maintenance packages that address your condenser, evaporator, compressor and all components of your cooling system.
To avoid facing brutal summer temperatures with no air conditioning, contact our friendly, capable crew to service your mini-split, central air system or traditional air conditioner. We can also repair or replace your thermostat with a new, programmable one that gives you control of your home comfort from miles away!
The following symptoms indicate that your air conditioner isn't running as efficiently as possible. Contact Swanton Energy Services to prevent high energy costs and lukewarm air flow!
High monthly energy bill
Leaking AC unit
Hot spots in your home
Lukewarm instead of cold air
Broken thermostat
The Team for AC Tune-ups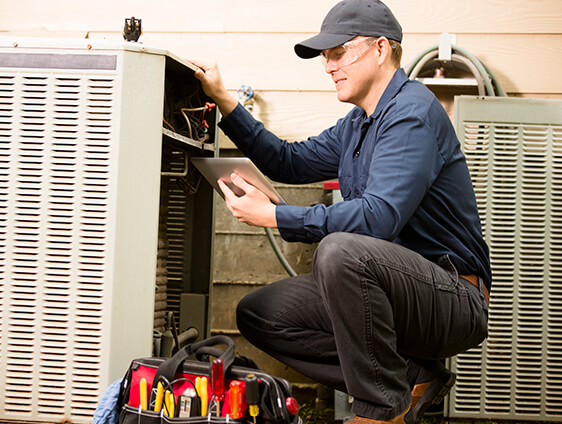 Swanton Energy Services has experienced and qualified HVAC technicians invested in achieving great results for your family. Along with a focus on customer satisfaction, our professionals have a vast knowledge of both traditional and modern air conditioners. So, when you're wondering about the loud noises coming from your air conditioner or can't get your programmable thermostat to work properly, contact us for assistance.
Feel free to ask any questions you may have about what is included in our AC tune-ups. We encourage all homeowners to invest in AC maintenance to keep their cooling system working no matter how high the temperatures climb.
Swanton Energy Services is an HVAC company that also offers superior furnace maintenance, AC repair, and AC installation in Atlantic Highlands. Contact our office today to schedule a service call or emergency service request.