Air Filtration
Taking Your Unit Under Our Wing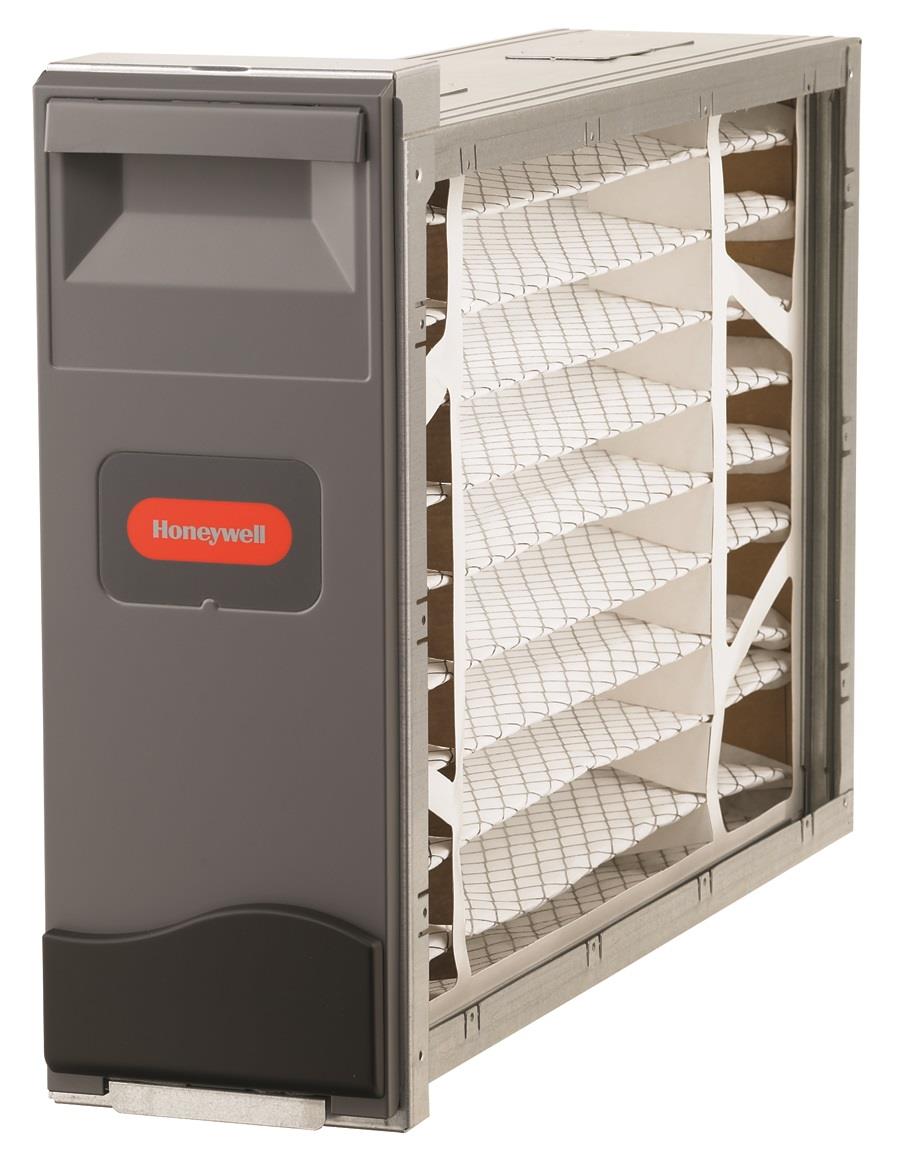 An air purifier protects your indoor environment and your health from harmful airborne contaminants. Unfortunately, this device's wingspan isn't broad enough to protect your HVAC unit, too.
However, harmful pollutants and particles are constantly pecking away at your heating and cooling systems' wellbeing. Because of this, the ride is too bumpy for your unit to fly solo. Thankfully, it doesn't have to. With an air filter from Swanton Energy Services, you can keep contaminants off of your systems' radar. With this device as co-pilot, it's a smoother flight for your unit and your budget.
Stop Harmful Contaminants From Ruffling Your Unit's Feathers
The most common reason heating and air conditioning systems take a nosedive is because dust, dirt and other contaminants find their way into your system. While perched here, these intruders cause severe blockages and extensive damage to your unit's proficiency. This forces your unit to work harder and use more energy to, once again, meet your comfort demands.
But it gets worse. The extra stress your unit endures leads to the need for extra repairs, service, parts or worse—a complete system replacement. Thankfully, by installing an air filter, you can keep these issues grounded while your unit steers you toward total comfort.
From Flighty Performance to Full-Throttle Efficiency
An air filter's purpose is to protect your system from dust, dirt, pollen, pet dander and other airborne contaminants by filtering these particles out of your system. Doing so clears the way for more dependable airflow. This, in turn, reduces how hard your unit has to work to keep your home comfortable and lands you the following benefits:
Increased energy efficiency
Lower utility bills
Longer lifespan for your system
Fewer costly repairs
… And so much more!
So, if you're looking to protect your system and save yourself some serious cash, then trust our professionals as your wingmen. We'll install your air filter properly on the first swoop.
Getting Your IAQ in Formation
Air filters do more than protect your HVAC unit. They improve your indoor air quality, too. You see, installed in your HVAC system, this IAQ device filters large particles out of heated or cooled air as it passes through your unit before they can enter your home.
Keep in mind if someone in your nest suffers from allergies or asthma, then attaining cleaner, fresher air is a "nest"cessity. That's because these respiratory ailments are heightened by poor IAQ. So, by installing an air filter, you're doing more than removing allergens, pet dander and pollen. You're forcing allergy suffering to take flight, too.
Don't Let Your HVAC Unit Fly Solo
Protecting your HVAC unit from harmful contaminants isn't something you can wing. It requires a proper installation of an efficient air filter in your system. No one offers more dependable systems and indoor air quality solutions than Swanton. For fresher, cleaner air and a more dependable unit, fill out our online form or call us at 732-889-5577 today!
---
Our Media Filters
Media filters eliminate dust and other larger contaminants in your home's air by trapping these particles as they're pushed through the filter.
Honeywell Whole-House Media Air Cleaner
If you're looking for a superior air cleaner, your search commences with a whole-house media air cleaner from Honeywell. This device is up to 85 percent more efficient at capturing microscopic particles like dust and smoke, as well as larger contaminants such as mold spores and pet dander compared to a standard one-inch filter. This leads to higher airflow in your heating and cooling system and ensures it functions at full efficiency.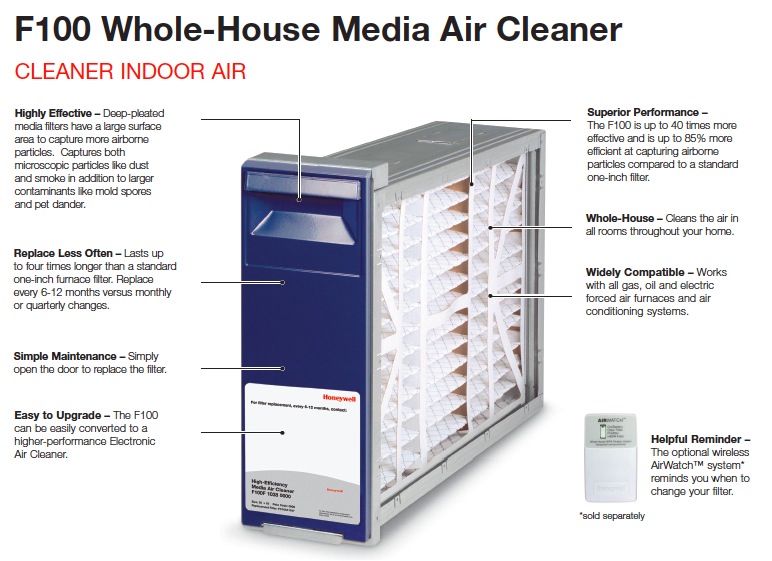 View Product Information

Key features:

Meets American Lung Association Health House guidelines
Requires fewer replacements because they last up to a year
Air Watch System provides filter change reminders

Captures both microscopic particles and larger contaminants
Widely compatible
Easy to upgrade to a higher-performance electronic air cleaner
Five-year warranty
---
Our HEPA Air Filters
HEPA filters, or high efficiency particulate air filters, are designed to stop particles that other filters can't. In fact, it's proven that these filters can remove up to 99.7 percent of particles 0.3 micrometers and larger, making it clear that nothing slips past HEPA air filters.
Honeywell Whole-House HEPA Air Cleaner
Ninety-nine percent of particles in your home's air are invisible to the naked eye. However, you can count on Honeywell's whole-house HEPA air cleaner to stop these particles from recirculating into your home. Using a powerful, three-stage filtration, this device captures 99.9 percent of pollutants, including pet dander, certain bacteria and pollen to deliver clean indoor air like you've never experienced before.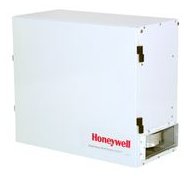 View Product Information

Key features:

Meets American Lung Association Health House guidelines

Wall-mounted AIRWATCH Indicator (included) provides filter change reminders for each of the three filters
HEPA media captures at least 99.97% of 0.3 micron particles that pass through it
Application for forced air systems or stand-alone
Power cord plugs into grounded 120-volt electrical outlet
Requires no maintenance except periodic media filter replacement
Operates quietly
Easy installation
High-efficiency pleated pre-filter extends HEPA filter life
---
Our Electronic Air Filters
Do you want to say your final goodbye to breathing in harmful bacteria or allergens? If so, then you need an electronic air filter. This device works by placing an electronic charge on airborne particles and then collects these charged pollutants like a magnet. With this highly efficient filtration method, electronic air filters are able to collect up to 99 percent of airborne particles and trap smaller particles that other filters let slide through.
Honeywell Electronic Air Cleaner
The Honeywell electronic air cleaner is an affordable and easy-to-use, whole-house solution that effectively traps and filters pollutants from your home's air as they pass through your heating and cooling system. But this doesn't just include larger particles such as mold spores and pet dander. Rather, using innovative technology, this advanced air cleaner is capable of capturing microscopic impurities like dust, smoke and smog particles, too. Plus, there's no replacement filters needed. Instead, all you have to do is remove the filter and wash it every six to 12 months. Achieving cleaner air has never been easier.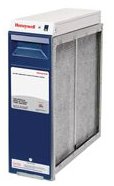 View Product Information

Key features:

Meets American Lung Association Health House guidelines

Three-stage filtration system includes electrostatic post filter that improves filtration with minimal resistance to airflow
Captures up to 99% of airborne particles from the air passing through the filter
Renewable and eco-friendly
No replacement filters needed
Honeywell offers an exclusive 10-year Clean Coil Guarantee
AIRWATCH Indicator (included) reminds you when it's time to wash the filters
Five-year warranty