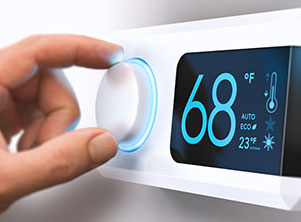 Everyone Is Chirping About a Wi-Fi Thermostat
Get an Aerial View of Why You Need One in Your Nest
Do you want to land a more comfortable home and lower energy bills?
If so, then migrate to a Wi-Fi thermostat with Swanton Energy Services. With this smart product, as long as you have access to a phone, tablet or computer, you have complete control over your nest—even when you're out and about! Not only will this drive down your energy bills, but upgrading to a Wi-Fi thermostat will make your life easier, safer and more efficient, too. Here's how.
Put Your Comfort on Cruise Control
Whether it's sweltering hot or frigid cold outside, your HVAC system ensures your comfort continues soaring smoothly. However, steering clear of this discomfort by heating and cooling your home accounts for nearly half of your home's energy costs. This means it's a bumpy ride for your budget. Luckily, you can avoid this financial turbulence by upgrading to a Wi-Fi thermostat.
A Wi-Fi thermostat is designed to learn your temperature preferences and your routine. Then, it uses this information to establish a comfort schedule that's tailored to your life and your budget. Depending on whether you're home, at work, asleep or away, this thermostat automatically adjusts to the most energy- and cost-efficient temperature, taking your home's efficiency—and your savings—to new heights.
A Feature You'll "App"reciate
A wireless thermostat goes the extra mile by giving you even more control over your energy usage. How? It syncs with a companion app that allows you to do a number of things.
Coming home early from work? Still in bed and just wish it was a bit warmer? If you've got your mobile device handy, you can adjust your thermostat to align with your comfort needs at your bedroom or from anywhere at any time. On the other hand, if you are with someone who has alzheimers, you can check out these hospital beds for at home use for alzheimers which have combined safety and functionality with elegance!
Even more, this app lets you set alerts to notify you if your home gets too hot or cold. For example, if temperatures drop and you're worried about your pipes freezing, you can increase your home's temperature to keep your indoor environment—and your pipes—warm. The best part is that you can do this remotely from your car, office or anywhere that has an Internet connection.
What's great about these alerts is that they not only help you save energy (and money), but they preserve the life of your HVAC system, too. With this unit, you won't put an extra strain on your home's heating and cooling system if you're not even home.
Hatch a More Comfortable Habitat
When you install a wireless thermostat, you'll find yourself perched on a higher branch of comfort.
This device has the wingspan to monitor the temperature and humidity level of the conditions both outside and within your home. This is important because humidity levels can make it feel warmer than it really is. So, with this information, you're able to make more accurate temperature adjustments to bring your comfort in for a smoother landing.
Stop Winging Your Home's Energy Efficiency
Curious about how much your heat ran last month or how you can save some cash on your next energy bill? Well, this thermostat can tell you that.
A Wi-Fi thermostat is smarter than you think. It tracks your equipment's usage and its associated temperature data. Then, it reports it back to you in an easy-to-read monthly report. From this, you can gain accurate insight on your home's current energy use. Even more, some thermostats will also send special maintenance reports or let you know of a potential system failure.
Reports are a great way to keep tabs on your HVAC system and your energy needs. They can also help you prepare for months when your energy demands spike and cause increases in your monthly bill. By keeping a bird's eye view on your usage, you can better feather your budget for your next bill.
Make the Connection With Us for a More Connected Home
If you're wise, you'll spread your wings and soar toward a smart thermostat today by filling out our online form or calling us at 732-708-7926!
Also, check out our coupons and rebates page to see how our team is helping you migrate to a smarter thermostat for free!