For homeowners in need of AC maintenance in Red Bank, NJ, there really is only one company to call. At Swanton Energy Services, we offer AC tune-up services that will prolong the life of your system, improve efficiency and save you money on energy and repair costs. Our maintenance services are an excellent investment in your AC system and will ensure you have dependable cooling when you need it the most. We offer the highest standard in maintenance services and recommend that you arrange a tune-up every year to keep your system in top-notch health. Over the year, debris and dust can build up, parts can start to seize up, and your system can become less efficient as a result. We'll give your system a new lease of life and get it working perfectly for the summer season. Speak to our team today to arrange an appointment.

Dependable AC Maintenance in Red Bank
When you invest in AC maintenance in Red Bank, you need a team that will carry out a thorough job. We take our time. We know all of the common problems that an AC system can experience and we'll go over our extensive checklist of maintenance tasks. From lubricating parts to blasting away dust and debris, we'll ensure your system is rejuvenated and working perfectly. We can also spot any problems that might affect your AC system later on down the line and give you advice on the best approach. Give your AC the best treatment there is by arranging an AC tune-up with our team today. We'll provide you with a fixed cost for maintenance and arrange a convenient time for our cooling technicians to call.
Here are some of the benefits of arranging AC maintenance:
Improve efficiency
Reduce energy and repair costs
Improve air quality
Keep warranties valid
Arrange an AC Tune-Up Today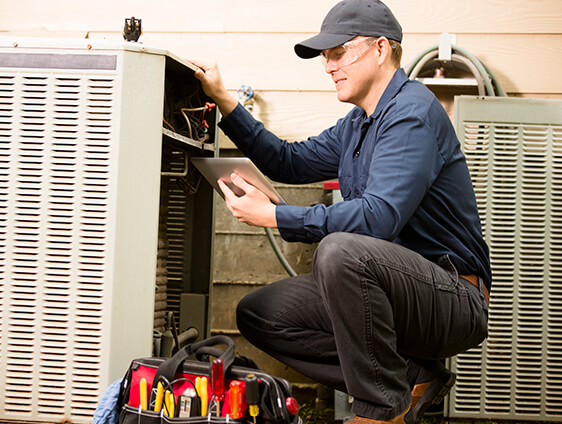 Give your AC system some TLC today by arranging an AC tune-up with our team. We can visit at the time of your choosing and carry out a thorough check and service of your system. The more you look after your AC system the more it will look after you with dependable performance when you need it the most. We've been providing our services across the Red Bank area since 1977 and we're committed to your comfort and satisfaction. We'll always go out on a limb to protect your nest and ensure your family is cool and comfortable on the hottest days.
Speak to our team today to find out more about AC maintenance in Red Bank and how Swanton Energy Services can help you to keep your AC system working perfectly and more efficiently.
Not looking for an AC tune-up? We also provide AC repair, AC installation, and furnace maintenance services.