Swanton Energy Services is a well-established HVAC company providing AC maintenance in Little Silver, NJ. Do you have an older AC unit? If so, it's important to get regular AC tune-ups to prolong the life of your AC and keep it running at peak performance. Newer units also need regular AC maintenance to prevent damage and run at top efficiency. When you trust our crew with the health of your air conditioning, rest assured that we'll provide upfront estimates for any irregularities noted by our experienced HVAC technicians. For complete AC maintenance services in Monmouth County, trust a local company that gives back to the community one customer at a time!

Top AC Maintenance in Little Silver
Have you been wondering what difference it makes whether you get annual AC tune-ups? Think of it this way. Without regular care, lubrication and cleaning, the parts inside your evaporator, condenser and compressor will wear out faster. So, to prolong the life of your unit, it makes sense to schedule annual AC maintenance. This may also help prevent costly breakdowns that leave your family sweating it out in the hottest seasons of the year. We service traditional air conditioners, mini-splits, central air systems and other AC units. Our cooling technicians arrive on time, dress neatly and treat our valued customers courteously.
We also handle emergency services. Contact Swanton Energy Services immediately if you notice the following issues!
Soaring utility bill
Leaking AC
Inconsistent temperatures
Hot air coming from the AC vents
Broken thermostat
Your Local AC Tune-up Team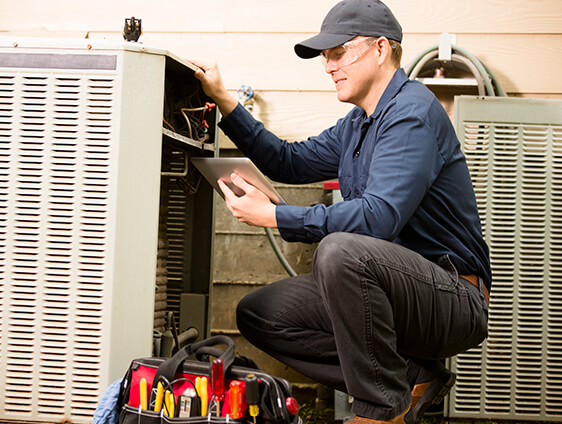 Swanton Energy Services is a proud member of the Better Business Bureau and our BBB-accredited HVAC company in Little Silver has earned a reputation for excellence. Call on our NATE-certified technicians for AC maintenance on today's top brands and models available. Do you need help choosing an air conditioning system that will provide maximum efficiency without breaking the bank on your energy bills? We would be happy to measure your home and ask you a few questions to guide your decision.
We can help keep your air conditioner running in top condition with the right maintenance including air filter checks, cleaning of internal components and calibration of all the necessary safety systems. During an AC tune-up, we sometimes see issues that you should address to save money down the road. We will always provide an honest opinion when it comes to performing maintenance on your system. Ask about our maintenance plans including the Comfort Shield service plans available exclusively to our clients.
Swanton Energy Services is a full-service HVAC company. Contact us today to set up an appointment for AC maintenance in Little Silver.
Not looking for an AC tune up? We also provide AC repair, AC installation, and furnace maintenance services as well.