At Swanton Energy Services, we offer bespoke AC maintenance in Middletown, NJ. Nothing beats the comfort of a working AC, especially during the hot summer days. Our maintenance services are client-focused and are tailored to meet the specific needs of each of our customers. Learn more about our services for AC tune-ups in Middletown today.

Reliable AC Maintenance in Middletown
Over the last forty years, we've been in the AC maintenance space, and we've helped hundreds of clients improve the comfort of their living and working spaces. Regular AC maintenance improves indoor air quality, which subsequently improves indoor comfort.
Below are other reasons why you should consider regular AC maintenance:
Extends the life of your AC
Improves indoor air quality
AC maintenance saves you money
Affords you peace of mind
improves your home's value
Regular AC maintenance saves you money since issues are detected and addressed early. Also, when your AC is running efficiently, it uses less energy to keep your space cool, reducing your energy bills.
In addition, routine AC maintenance improves indoor air quality, which is essential, especially if you have seniors or kids living with you. Poor indoor air quality can exacerbate existing allergies among adults and children.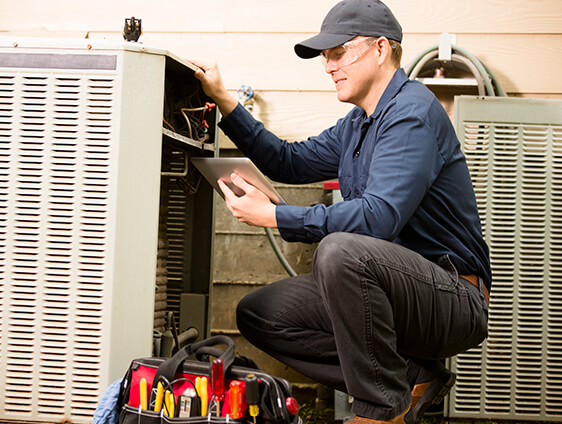 Another benefit of regular AC maintenance is improved home value if you are looking to put your home on the market. Buyers are very particular about having a well-maintained AC unit when looking at your home's energy efficiency.
Finally, nothing beats the peace and comfort of knowing your unit won't breakdown when you least expect it. Regular maintenance reduces the chances of repair, ensuring your unit performs optimally all year round.
Some of the signs your AC may be faulty include strange odors, unusual sounds, uneven cooling, and high humidity levels. Contact our cooling technicians if you detect any of the above issues to help probe and repair any problems. Furthermore, we recommend scheduled maintenance to help detect these issues in good time and avoid possible escalation.
Hire Quality Middletown AC Maintenance Services Today
At Swanton Energy Services, we offer quality AC repair services. We believe in putting the customer first, and this philosophy has helped us offer personalized services to our clients.
We are the best choice for all of your AC maintenance in Middletown. Contact us at Swanton Energy Services today if you are in need of our AC tune-up services.
Not looking for an AC tune-up? We also offer AC repair, AC installation, and furnace maintenance services as well.