Swanton Energy Services is dedicated to offering quality AC maintenance in Rumson, NJ. When you have a problem with your AC system or need an AC tune-up, call us. We will fix it for you to keep your living space cool during the warmer summer days. Our core focus is on client satisfaction, and our cooling technicians strive to get it right the first time so you can get back to your daily life.

Signs that You Need AC Repair in Rumson
It's important to report AC repair warning signs as soon as you spot them to prevent further damage.
Below are telltale signs that your AC needs repair:
Warm air is coming from the AC – The compressor may be faulty
Poor airflow from the AC – This may indicate a blockage
If you notice the AC is constantly going on and off, a quick AC tune-up may fix the issue, or you may need to buy a new air conditioner
If you notice high humidity levels. During the summer, you don't want to feel humid when you're indoors
If your AC is leaking water, it needs repair. A leak can lead to structural damage to your house
If you smell an unpleasant odor from your AC system, you want to deal with the issue as soon as possible
If you are unsure whether you require AC maintenance, we will come to your home, check the issue, and make repairs.
Some of the most common AC maintenance needs we see include leaking refrigerant, corroded or dirty coils, faulty wiring, clogged air filter, and a faulty thermostat. To address these problems, we offer reliable AC repair and maintenance, central air conditioning, air duct cleaning, ductless mini-split systems, air purification and filtration services. You can also contact us for system upgrades.
Let Us Fix Your AC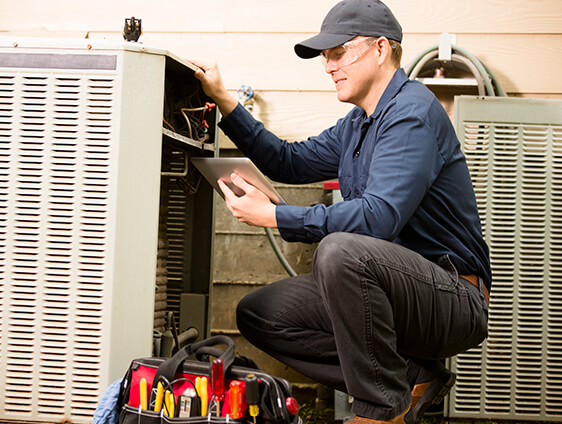 Here at Swanton Energy Services, we pride ourselves on being one of Rumson's best AC tune-up companies. No matter what your AC needs, you can count on our team of professionals to provide quality service and fix your issue quickly. We recommend leaving the AC maintenance and tune-up to the professionals rather than attempting any DIY fixes. We will check the air filters, clean out the internal components and ensure all systems are working efficiently.
We are dedicated to giving you the best service regardless of what type of AC you own. We're not just a business providing AC repair services; we are a part of a thriving community.
Contact Swanton Energy Services for AC maintenance, AC repair, or AC installation in Rumson today!