Installing ductless air conditioning in Little Silver, NJ takes little to no time. In general, one system will take several hours to install. The total installation time will depend on the number of units that you're installing. If you live in a one-bedroom apartment and only need one unit, the installation will take less than a day. On the other hand, if you're planning on installing a mini split AC unit for each room in your house, it'll take quite a bit longer. Our team will try to get the job done as quickly as possible to avoid disrupting your day-to-day life. On top of that, we will take great care with your home and will leave it cleaner than when we arrived.

A mini split is easy to install because there is no custom ductwork involved. It's essentially two systems, an outdoor component and an indoor one, that's connected by refrigerant tubing, power cables and more.
Advantages of Ductless Air Conditioning
Unlike central AC systems, ductless air conditioning can only cool down a certain zone at a time. The size of the AC that you purchase must be able to fulfill the needs of the room. In general, we recommend getting at least 20 BTUs for every square feet of space in the room.
Out of all the AC types, you'll find that getting a mini split in Little Silver has become one of the most popular options.
That's because ductless air conditioning offers:
Integrated zoning for better temperature control
Higher overall efficiency and performance
Ease of maintenance, repairs and installations
Better overall aesthetics with the room
Lower energy bills
Here's something not a lot of people know — almost 20% energy is lost through ductwork! Ductless air conditioning is a lot more energy-efficient. You'll spend less money to cool down your home.
We also offer ductless air conditioning services in:
Reliable Mini Split AC in Little Silver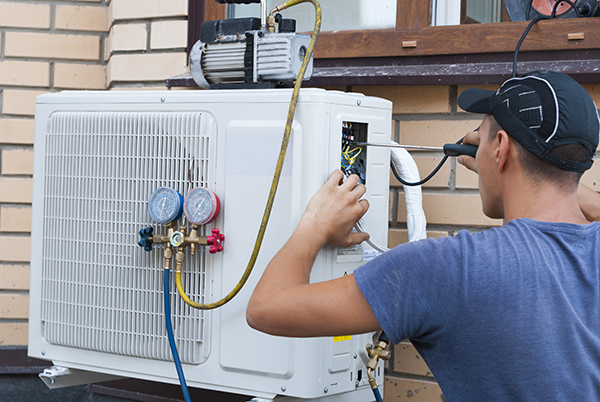 Since being founded in 2015, the team at Swanton Energy Services has striven to deliver exemplary cooling services at the best prices possible. We are locally-owned and operated, and back all our services with a 100% satisfaction guarantee. Our cooling team will always get the job done right. More importantly, we'll help you find the perfect mini split AC for your home. We have a lot of experience in handling various models and can provide you with valuable insight. More importantly, our team is NATE-certified, experienced, highly-skilled and always learning how to become even better!
If you are interested in learning more about how to install ductless air conditioning in Little Silver, reach out to Swanton Energy Services today! We offer budget-friendly AC upgrades and flexible financing options with 0% interest and no money down!